The Toys 'R' Us Bankruptcy seems a long while ago now, but many wonder what happened to those Toys 'R' Us stores, so we decided to write the story here. When the first Toys 'R' Us stores opened they astonished the consumers of the day! Never before had toy stores been that big and crammed with merchandise. What the originator Lazarus really captured was a sense of American abundance. It certainly paid-off after the war. After all those years of depression. But, that was before the advent of online sales…
On This Page
One year later: Toys R Us' fatal journey through Chapter 11
The new Toys 'R' Us megastore format took a supermarket-style approach to toy selling, which distinguished it from every other toy store in existence. Previously toy stores were small and family-run, and only carried a limited line of products. Lazarus' stores, on the other hand, were orders of magnitude larger than their competitors and presented a smorgasbord of thousands of different toys.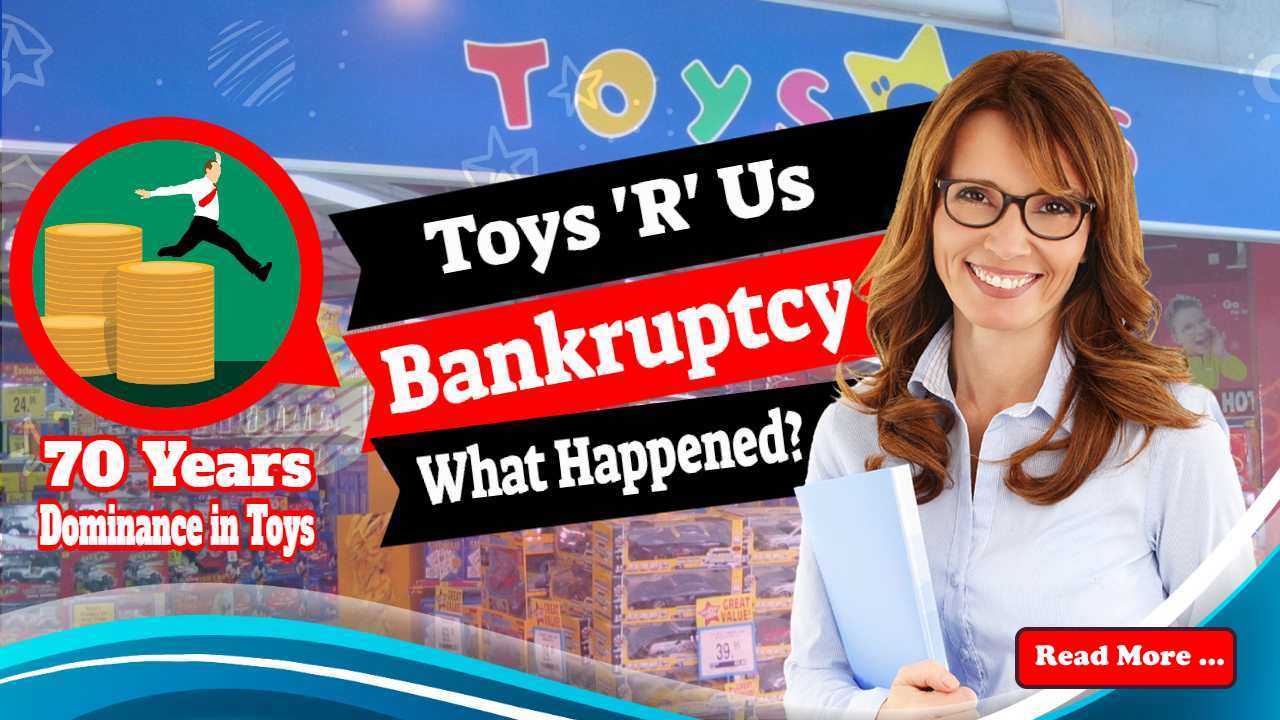 Toys 'R' Us reigned supreme for sheer choice for 70 years but failed to adapt when internet sales and companies like Amazon began to take hold of online sales in general. The result was a gradual draining away from profitability and bankruptcy. Now when shoppers are ready to make a purchase on their old website, they are redirected to Target. Buyers get free shipping on eligible items and free pickup at one of that store's multiple locations.
Toys R Us announces plans to close 180 stores
At first, the Toys 'R' Us stores that were closed piecemeal were the most unprofitable and those were shed-off in a series of announcements.
Ironically the final sudden implosion of Toys 'R' Us came about six months after the company sketched out an ambitious reinvestment plan to get back on its feet by using bankruptcy to achieve a fresh start. It was hoped that they would be able to claw their way back but Toys 'R' Us confirmed that it planned to close all of its U.S. stores. A last-second deal was hoped for to keep the 200 best locations alive, after its best-laid plans to survive chapter 11 went awry.
Unfortunately even keeping some stores open proved too much for funders to contemplate, and they folded completely.
Micah Walker of the Detroit Free Press was of the view that Toys 'R' Us was planning a big comeback in the United States later in the year of closure. According to Bloomberg, there were plans to open stores in time for the holiday season. The locations had not been disclosed. But for those who wished to introduce the toy chain to their kids or were just missing the nostalgia of seeing Geoffrey the Giraffe, there were hopes.
At its peak, the store had locations in Poland (16 locations), plus Portugal and Spain all corporately-owned. At its peak Toys 'R' Us also had 105 stores in the United Kingdom, the last 100 of which were closed by April 24, 2018. Also, in April 2018, it was announced that Smiths would acquire stores in Austria, Germany, and Switzerland. But the sales never got past "pending". Stores in other European countries were placed in liquidation as well at about that time.
The first US act was to close 182 stores nationwide, about 20% of its stores in the US, according to court documents filed in a Virginia Bankruptcy Court. Retailers were going bankrupt as well due to online sales. Examples are such as Payless, Gymboree, Rue21 and others that successfully exited chapter 11. They did so after filing with detailed plans already drawn up and backed by key stakeholders. More often than not, this is key to a successful bankruptcy turnaround. Retailers by law have a restricted timeline to decide which leases they wanted to exit during the case. The problem was that Toys 'R' Us had no plan for closing stores or removing debt, having filed before it could negotiate one with creditors.
The New-Jersey-based company, declared bankruptcy, as competition from Wal-mart Stores Inc. and the likes of Amazon. Com inc. hurt sales. It originally said it planned to shut down the majority of its locations in mid-April amid underperformance. When the company announced plans to go out of business in March, the chain had about 735 stores left.
The UK division of Toys 'R' Us officially went into administration on 28 February 2018. The announcement came after the company had already made plans to close 25 of its 106 stores across the country that spring.
The loss has been creating new opportunities for new big-box stores, online retailers and mom-and-pop shops to pick up a larger share of the toy business. The retail chain, which filed for bankruptcy protection in September 2017, had been fighting an uphill battle to stay relevant amid growing competition from the likes of Target, Walmart and Amazon.Com. Its woes only seemed to magnify in the last months. While the retail industry enjoyed its best holiday season in years, Toys 'R' Us struggled to find its footing.
Terrible Christmas sales for them left it on life-support. The chain had 735 us stores when it announced plans to go out of business in March.
Connecticut stores were among those children's retailer Toys 'R' Us planned to shutter-up as it worked through a Ch. 11 bankruptcy, it disclosed. The Connecticut stores include Toys 'R' Us in Newington, Babies 'R' us in Manchester, and side-by-side stores in North Haven and Waterbury. They were among 182 total stores that the company said have not met performance standards, court records showed.
Moves in Court to Liquidate the U.S. Business
In the end, nostalgia couldn't save Toys 'R' Us. The once-mighty retailer, which struggled to keep up with changing trends in consumer behaviour and childhood play. The inevitable result was that it had to liquidate its operations, meaning the closure of hundreds of stores. The former leader of the toy industry filed for chapter 11 bankruptcy after years of slipping sales and mounting debt.
Lawyers Biggest Winners In Firm's Bankruptcy, Top Firm Gets $56 Million
When Toys 'R' Us filed for bankruptcy in September 2017, toy manufacturers and store workers were quick to predict that the only winners would be the lawyers. They were right! Final accounting documents filed with the bankruptcy court show the bankruptcy and liquidation of Toys 'R' Us was a bonanza for law firms and liquidation advisers. One top New York law firm was paid $56 million.
How $5 billion of debt caught up with Toys 'R' Us
This week, after 70 years of being a titan of toy retail, Toys 'R' Us announced it would be closing up shop for good. The announcement follows its filing for bankruptcy six months ago. The chain had struggled to pay down its $5 billion debt following a leveraged buyout in 2005. This was the first nail in its coffin. But clearly, the retailer was facing a fatal double whammy.
Toys 'R' Us reportedly didn't even have enough money to fix the backwards r in its logo by that autumn! It was simultaneously declared that the Christmas of 2017 would be cancelled for the toy retail giant. With the holiday season approaching, Toys 'R' Us found itself trapped by a sort of debt ouroboros.
Fears that the company might declare bankruptcy caused suppliers to demand tighter payments ahead of the holiday season. That is what, ironically, pushed Toys 'R' Us to declare bankruptcy.
It was once the mecca of kids' gifts. Slow death had come from slashing prices, signing major, exclusive licensing deals with toymakers and even buying up other toy giants over their last decade. Toys 'R' Us Bankruptcy closure left in its wake a great deal of sadness, pockets of anger. Some still held onto a slim hope. when the retailer filed for bankruptcy it was reportedly $4. 9 billion in debt.
Toys 'R' Us had fallen prey to the crushing debt-load of $5 billion stemming from its 2005 leveraged buyout by private equity firms Bain Capital and KKR (KKR), and real estate investor Vornado Realty Trust (VNO). The deal was ill-timed, saddling the retailer with loans as shoppers were shifting their spending from big-box stores that defined the previous era in retail to the internet.
The board of directors installed John Eyler as CEO (formerly of FAO Schwarz ) in May 2000. Eyler launched a plan to remodel and re-launch the chain. Blaming market pressures (primarily competition from Walmart and Target ), Toys 'R' Us considered splitting its toy and baby businesses.
The news of final Toys 'R' Us Bankruptcy closure came six months after the retailer filed for bankruptcy. The company struggled to pay down nearly $8 billion in debt, much of it dating to a 2005 leveraged buyout, and had trouble finding a buyer. Toys 'R' Us had stopped paying its suppliers, which included the country's largest toymakers. It had to close!
The loss amounted to 33,000 jobs, after failing to reach a deal to restructure. With shoppers flocking to online platforms like Amazon. Com inc., and children choosing electronic gadgets over toys, Toys 'R' Us had struggled to service debt. It succumbed to its debt burden, leading to the biggest bankruptcy of a U.S. retailer since that of Kmart in 2004.
Amazon was certainly not the only factor to blame for the sinking of Toys 'R' Us. By the time the company filed for bankruptcy in 2017, it was drowning in $7. 9 billion worth of debt. Many have pointed out that the debt was a result of "pillaging by pirates" and "wall street greed" on the part of investors.
Toys 'R' Us, also owned the Babies R Us chain, failed to achieve "an orderly wind-down of its U.S. business". It was a sad end to a chain known to generations of children and parents for its sprawling stores, brightly coloured logo and Geoffrey the Giraffe Mascot. Many of the children who happily sang the "I don't wanna grow up, I'm a Toys 'R' Us kid" jingle grew into busy parents who found shopping online more convenient.
Tens of Thousands of Workers were Laid-off
A year after Toys 'R' Us closed, tens of thousands of laid-off workers are getting a portion of the severance promised and then rescinded as the retailer unravelled. While workers are getting $2 million. That's only a fraction of the $56 million in fees awarded to Kirkland & Ellis, the law firm representing Toys 'R' Us. Scandalously, pensions and severance payments are labeled as unsecured debt when a company files chapter 11, making them a low priority and less likely to be paid.
A year after Toys 'R' Us bankruptcy and store closure, tens of thousands of laid-off workers were getting only a portion of the severance promised and then rescinded as the retailer unravelled.
Charities also suffered from the Toys 'R' Us closure. Toys 'R' Us shoppers donated more than 250,000 toys last year and the company gave $5 million in corporate contributions — 40 per cent of all corporate giving to the marine corps community effort. The company's 800 stores usually had boxes near the doors where customers could toss a toy on their way out. They also took monetary donations.
The company was publicly traded on wall street for almost 30 years starting in 1978. At its peak, the toy retailer's stock traded for over $45 per share. Unfortunately, this got the attention of other retailers. Companies such as Walmart, Target, and Amazon began to steal market share which was the beginning of the end for the toy giant.
While the company once enjoyed a dominant position as a retailer of children's products, Toys 'R' Us began losing market share to brick-and-mortar competitors like Target and Walmart while contending with the rise of online shopping. Financial woes led the company to file for bankruptcy last year as it struggled under the weight of a roughly $5bn (£3. 6bn) debt load.
How for a While Many Thought that the Bankrupt Toys 'R' Us Might not be Dead After All
It's easy to forget that back in 2017 it seemed unthinkable that such a strong force in toy retail as the mighty Toys 'R' Us would ever really just disappear. In early 2019 there were articles saying about the Toys 'R' Us bankruptcy:
"Welcome back Toys 'R' Us, we missed you."
In fact, Toys 'R' Us even opened at least one first new U.S. retail store. One was at the Westfield Garden State Plaza Mall in Paramus, New Jersey.
"Yes," the article read; "this isn't fake news Toys 'R' Us is back from the dead."
This short-lived reprieve was only possible when the chain's long-serving chief merchant Richard Barry bought the rights to the brand name and housed it under a corporate name called Tru Kids.
Pundits thought that it might yet have been able to survive and it was said that:
"… other seemingly dead retailers have a way of coming back to life. American Apparel, which closed all its stores last year after filing for bankruptcy, was revived by another company as an online-only clothing store. FAO Schwarz, which Toys 'R' Us once owned, is opening shops inside department stores in the U.S."
Now, looking back we can see that Toys 'R' Us was dead, and would to all the eyes of the world stay that way. It should be a lesson to all retail chain managers that it could happen on the cusp of the all-important holiday season, a period in which many retailers earn nearly half of their annual revenue. That time of year in 2017 should have been particularly lucrative for the giant toy seller.
The beloved toy store did seeming to rise briefly from the dead in 2019 after it was purchased by Tru kids Brands when they opened holiday pop-up shops and relaunched a website in the toy retailer's name. The revitalization efforts came after Toys R Us filed for chapter 11 bankruptcy in 2017 and — after failing to find a buyer to help refinance the company's mounting debt — ultimately shuttered and liquidated all 700-plus stores in an emotional farewell.
We have read that even while Chief Executive Officer Dave Brandon was holding a press briefing at a store in Times square telling customers that all would be fine. A few feet from where he was talking about the "dawn of a new day", shoppers thought Toys 'R' Us was already a goner. All most of the attending shoppers wanted to know was, exactly when the going-out-of-business closing-down sales were going to start!
This article was first published on: Kinningpark.com
The post Toys 'R' Us Bankruptcy – A Retail Disaster Being Repeated in Many Malls Today appeared first on GQ Central.