How does drop shipping work on Shopify?
It's simple to start your own e-commerce website. The key is identifying your niche in a competitive market. Choose which platform you wish to operate on and select your drop shipper . Some of the simplest e-commerce platforms when setting up a new business are Shopify and Woo Commerce.
With these third party platforms, integration is simple. You need to put your products on the website and use the systems in place to set up your e-shop.
The internet has opened up the dropship market to all sorts of shops, so it's always a good idea to be weary of scams. Ads pointing you to retailers offering cheap, made goods are not rare. Research needs to avoid buying goods from them.
Drop shipping is available for both shopify and woocommerce. You can import products from companies such as AliExpress. They offer both excellent price and quality with least storage fuss. Be careful to brand your store as an e-commerce store. Not a drop shipper from AliExpress – this matters in the perception of the consumers.
So, is drop shipping worth it in 2021?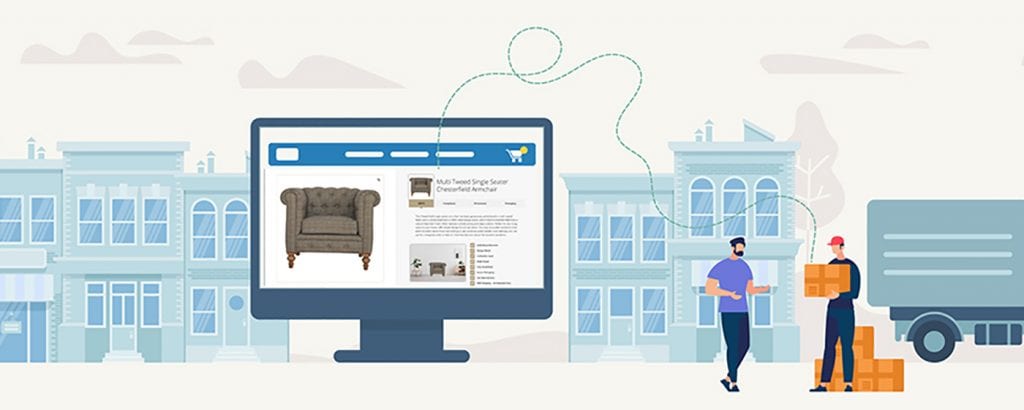 It's an efficient way especially if you don't have experience in the industry. All you need is a good drop shipper, e-commerce platform and an eye for research and marketing. The packaging, storage and transport element of dropship outsources to the drop shipper. This streamlines operations.
As with all business models, it takes time and effort to find the right dropshipper. Find your niche and work hard on marketing to earn a healthy profit. Your business is only gonna be as good as the effort you put in.
A good way of finding a dropshipper for a product you like is to look at the product's manufacture. Ask if they dropship. This cuts out all the middlemen. If this isn't possible, ask for their list of wholesalers and see if any of them dropship at favourable terms!
Dropship has a bit of a false reputation as a make money fast scheme. It's a business model that operates at low quantities. this makes it effective as a side business or something you do to make extra money in your free time. It still needs time and effort put in.
The first place to start in advertising your business is a facebook ad campaign. The worlds biggest social media site offers targeted ads to the clientele you choose. This specificity leads to greater clicks. Other means include an email list that'll help you build a dedicated customer base. It'll also help you advertise your best products every week.
How much do I need to invest to start dropshipping?
This is the biggest advantage in dropship. You don't need to invest in warehousing and other infrastructure. Neither do you need to buy large amounts of stock to gain revenues. There's less risk involved as well because you don't have a physical storefront or a warehousing spot. this provided agility and can lead to greater incentives in diversifying.
The low barriers to entry are key. Any business with the right ideas and product selection can get into dropship. even without a massive investment.
There are no educational requirements in running a dropship business. Formal training in some business aspects and knowledge of your industry always helps.
This enables you to understand the technical side of the business more. It also helps to work on improving the elements that'll most lead to profits.
The lack of capital needed is the biggest draw towards dropship. There's no factory, warehouse or physical store needed. Everything outsources and it's all online. The downside is that dropshippers charge higher prices for these privileges. You're likely to get lower margins than with wholesale.
There's little initial finance needed, and this extends to monthly expenditure. You don't need to have a massive outlay on initial and monthly stock. Further, you don't have to spend money on physical assets. These include warehouses and on many employees due to the online nature of the business.
Is dropshipping a legitimate business?
What is dropshipping?
Dropshipping is a completely legal way of selling goods to the public. This avoids you the hassle of storage, transport and packaging.
When looking for an effective dropshipper, it's a good idea to filter out the scams first. The simplest way is to look at the website and the addresses and reference them across the web. Further, a lot of scams charge monthly fees. Most legitimate dropshippers do not do so, they earn money from the goods you buy from them.
Reliable dropshippers are key to a good business. A reliable dropshipper will either be a manufacturer themselves, like Artisan Furniture. Or, they'll have a strong relationship with suppliers that give them quality furniture. Look for a company that's been in the business for some time, and indeed has a good reputation in the industry.
The legality of dropship is unquestionable. All you need to do is use a legitimate dropshipper and fulfil the contract completely.
Small Business Ideas You Can Start Online (No Inventory Required)
Startup costs are a lot smaller than for traditional wholesale. For wholesale, it's difficult to predict the volume of goods you'll need. This may lead to excess stock being present. This is a loss of money, and dropship eliminates this. You only pay for whatever you buy.
How to Start an Ecommerce Business (A Complete Blueprint)
The products you sell are the heart of your business. It's an excellent idea to put down a list of products. You believe they will sell at competitive prices without too much competition. You need your find your niche in the market to gain profits. Choosing products to fit this niche will must research, analysis and time.
Dropship is an accessible business model that allows you to sell goods to customers. You do not needing transport, storage and packing facilities. The fact that makes it so effective for new businesses is that they don't need large amounts of initial capital. They also don't need expertise in the supply side of the business.
What Should I Name My Online Store?
Dropshipping is a modern type of order fulfilment in which you don't need to manage the goods. You place the order with your dropshipper and let them ship to your customer's premises. This eliminates packaging, storage and transport from your scope of operations. It streamlines your business. You'll never touch the product.
Dropshipping on eBay is a completely different system to dropshipping elsewhere. n your own business, for example. They need you to get bulk inventory which you're not guaranteed to sell. you don't even have access to your sole customer base. This is more like a wholesaler.
Worldwide brands, inc. is one of the options you should use to find dropshippers. They'll work with your business model without worrying about scams. they'll connect you with the requisite dropshipper and you're free to negotiate your own terms.
Dropship orders work as soon as your client places an order. Depending on integration, it'll go to your dropshipper who'll ship to your client's doorstep. If the good isn't available, it can take some time for them to ship to the dropshipper's premises.
Hard Truths About Dropshipping No One Talks About
An advantage of dropship is that you can use it for market research. Test the waters without spending money on large quantities. Little dropship options can help you gauge which products can sell. Especially at wholesale quantities.
There is a wide range of goods available on Modalyst. It's effective for online retailers. They want to target european and american clients from within the UK.
The other advantage is that the rapid transit times and tracked shipments enable quick processing.
A dropshipping arrangement might work like this:
Your customer places an order on your website or preferred e-commerce platform. This will go to your dropshipper. They'll package and ship the good to your customer's doorstep from the storage facility.
You can get orders from across the world. You don't even need a shipping network of your own. This widens your horizons. you do not even need any sort of technical knowledge and funds. This is dropshipping.
Reselling goods from other online platforms at higher prices is the essence of dropshipping. Chinese firm AliExpress is one that sells at low prices and you'll be able to resell them at higher prices. A dropship programme of AliExpress products lets you use a dropshipper. They're shipped to your customer's doorstep.
How do I incorporate dropshipping into my business?
Dropship is one of the most profitable means of supply in business. Incorporating dropship into your business is simple. All you need is an effective dropshipper and an idea of what you wish to sell. The process of maintaining your advantage in the market takes time and effort. It's achieved through consistent research and marketing.
How much does it cost to start a dropshipping business?
Dropship remains one of the most popular means to make money on the internet. this is especially true with the younger generation. It enables them to start a business with little capital. They can use a dropshipper to ship from their factories to the customers doorstep. Hence, it doesn't cost much to start a dropship business and maintain it – you don't need stocks, after all.
Of course, there are both pros and cons of this model. The main advantage is the little capital needed to run a consistent business, . The risk free nature of the operation due to the lack of stock present is also a factor. New business can flourish with this advantage. They don't need to worry about losing their investment and making losses.
What's the main difference between a dropship business and a regular wholesale business? This would be stock! It's one the biggest attractions of this model. New businesses don't need to keep large amounts of stock to be able to sell goods. They can move this cost onto the dropshipper and buy only what they need as higher prices, it's a valid trade-off.
Dropship is a means of supply in which you hold stocks at all. All you do is place orders with a dropshipper who then ships goods to your client's address. You don't even handle the product, processing the order by moving it onto a dropshipper.
With the rise of small online businesses, dropship has become popular. That too at an unsustainable rate. There are too many businesses in too few sectors. Only the most competitive will survive. This will be either because of their price or became they've found their niche. Your job is to find an effective ecosystem. You sell goods at reasonable prices without excess competition. It helps you in gaining a loyal clientele in the process.
What are the benefits of dropshipping?
For wholesalers and retailers, dropshipping is a great way to clear stock from their warehouses. Slow selling goods or goods that don't have a huge amount of demand in wholesale places are put on a dropship catalogue and sold at higher prices. Successful retailers who use their dropship programme will buy wholesale as well. This is to take advantage of bulk pricing.
Dropship can is product fulfilment that allows small businesses to use dropshippers. They help to ship products to their clients' doorstep without needing to hold stock and ship it. It was first introduced in 1928 but soon abandoned during the Depression. It's made a comeback in the internet era. Toyota introduced a just-in-time supply chain in the 1950s. The benefits became clear and this is the modern basis of dropship.
There is no element of risk involved in dropship due to the lack of stock needed. You buy what you need and don't keep large amounts of goods in factories that may go unsold.
Some retailers may even prefer dropshipping on Amazon – a means which has pros and cons. The main advantage is the sheer scale of the company. There's also the fact that you're selling on a website on which most people will search for goods first. This is true irrespective of what they want.
You can dropship at a very low budget. There's no need to pay any subscription costs. Use the basic programme and only buy the products that your clients buy. This is good to save costs, advertising and marketing can at a low budget online as well.
You may need to be a business entity to work with some of the more reputable dropshippers. The process of becoming a good retailer reliant on dropship is below
Create a business plan based on dropship.
Locate a niche
Find how to source the products you need
Look for a platform
Look for a supplier
Register your business
Marketing marketing marketing
This model offers new business a huge amount of flexibility, especially for the product selection and price. You only sell what you want, at a price you feel is fair. There's no need to even set up a legal business, although you may need one as you expand.
For working with supplier dropshippers and other reputable businesses, you'll need to have a business. It's a simple process with little red tape so its worth going down this route if you plan to grow your business.
Dropshipping in countries such as India is still unsaturated and it's worth trying to fill that gap. Whether you set up a business or not, it's worth trying out new markets especially if you spot an unfulfilled niche that you can explore for profits.
Dropshipping is "dropping the shipment". You work with a reputable dropshipper who ships a product your client buys to their doorstep without involvement in the supply chain at all. This is particularly effective in the internet age.
Is dropshipping allowed on eBay?
Dropshipping isn't allowed on the platform for many reasons, and a breach of terms can lead to administrative action such as a ban. You cannot use another company or platform to ship goods to a customer who buys that good on your eBay account.
Large e-commerce platforms have massive advantages for their audience and reach. They usually don't allow dropship though, they ship to your client through a third party. You'll need to store stock through dropship instead.
Is dropshipping allowed on Amazon?
Dropshipping works on the website and you can use dropshippers to integrate with your account. Whenever a customer buys goods from your account, your dropshipper will send the goods to them. This makes you a profit.
What are some dropshipping product ideas?
First you'll need to decide your product niche. This is important because you need a niche that's not too competitive and shippable. You'll also need to have knowledge of it. After choosing a niche, decide on the products you'll sell. Create a 10-20 product shortlist and rank them on convenience, price and competition. Look at dropship options as well, this will let you decide what you'll sell.
Dropship is a means of supply that's become particularly relevant over the past few years. It's a good fit with online commerce and with small businesses. They don't need to spend massive amounts on stock holding and warehousing. It's opened up entrepreneurship to talented people. People would not have been able to sell goods online without this capital free approach. Simple platforms such as Shopify have made this a lot easier.
Is Dropshipping for You?
Dropshipping is for you if you have an easily shipped product with high demand. Especially if you don't have the capital and infrastructure to ship goods directly. Fragile products are usually a no go unless the dropshipper is highly experienced in the market. You'd do better to ship them yourself even if it takes more time.
Is dropshipping a proven business model?.
Dropshipping is a proven model for small businesses across the world. They can use dropshippers to ship goods directly to their clients. They don't even need to worry about packaging, storage and shipping. This widens horizons globally as well, opening up demand by default. Simple platforms such as Shopify have made this easy. It's a proven platform to business on, and you can get connected to suppliers through means such as Oberlo. There are a plethora of dropshippers out there and it's the question of finding the right one.
Dropshipping as a model gives you flexibility by letting you open an online shop. You don't need to worry about things such as packaging and shipping. This is all handled by the dropshipper. If you have a reputable one, you can focus on marketing and research and let them handle the physical aspects of it. You can utilise your talents in growing the business.
This is not a new concept but it's become more relevant in the internet age . Having an e-commerce shop is much easier in the new climate. There's a question of terminology as well. You don't want to become a "Dropshipper" you'll instead be a retailer that uses a dropshipper a supplier.
Dropshipping is often of questioned legality because of how effective it is. You don't even hold inventory. But you can earn money through selling goods online letting your dropshipper ship them. It's a simple process that's legal.
What is dropshipping and how can drop shipping help an online store business?
Inventory source integrates with more than 28 different online marketplaces. you're able to work with over a 150 suppliers with a plethora of categories. To save you all the manual work, there are automation tools available that let you view inventory. They also let and integrate the order placing without manual input. They send a message to the supplier when someone places an order.
Dropship as a model acts as the connection between sellers and buyers on the web, across the world. A buyer in a country buying goods from Asia needs to click a button. The seller will use their dropshipper to ship it. Most consumers don't even know they're working with a dropship powered business. This is good, it works behind the scenes.
The risk you take with online dropship shops is much lower than a physical establishment. Especially one with a traditional supply chain. There's less risk such as in physical assets. You don't need to pay for stocks, warehousing and shipping even if the costs are higher. This makes the model attractive to new businesses across the world. this is especially true if they're working online with a global client base.
Many people are investing in home security systems recently to keep their homes save. There's not as much as supply. This is a gap in the market that you can fulfil through dropship. Many pieces of technology such as Nest are available across the web for you. You buy and sell these as packages or individually across the world. This is only one example of the potential of dropship in exploiting a niche.
Many new businesses these days are looking at a dropship model. They use a dropshipper to ship goods to the client's doorstep when they order from them. This allows them to work on a low budget and focus efforts on marketing and research. After you've discovered your niche and the product, you'll be able to increase the quantities you buy. They'll be at wholesale prices. While this is more effort of setting up a warehouse and shipping system, it'll be more productive in the long run.
Dropship is a means of sourcing in which an e-commerce retailer does not own inventory. You use a dropshipper to send goods to a client. There's no need in maintaining a warehouse. That whole end of the business is undertaken by a dropshipper. You don't need to worry about it if the dropshipper is competent. The customer does not usually know that the goods were drop shipped, because it's "white label". The goods ship from the dropshipper's warehouse. Returns work there as well. This allows you to focus on the other aspects of the business. these involve invoicing, marketing and research.
The advantage is the lack of technical expertise allowed for, as well as low capital.
The process is simple. Your client buys a product on your website and you transfer the order to the dropshipper. They ship it from their warehouse. The level of integration is dependent on the dropshipper.
Dropshipping Pro #3: The Risks Are Much Lower
While dropshipping is legal, you'd do well to make sure everything is in order and within the guidelines. This involves safety standards, and avoidance of counterfeit goods because you're held accountable. Tax payments can be be handled in that way.
Dropshipping business has many benefits:
The costs are low and it's simple to use
Risks are high for stock and capital
It isn't location dependent
The scale and profits aren't limited by dropship
It can function as a part time business
The things you need look out for are,
Reliable suppliers
Competition is high and you need a reliable business plan to function effectively
There's a difference between big ticket items and small ticket times. The former involves products of a high value such as furniture. These may yield high profit margins at lower volumes. The latter, such as imitation jewellery and pens, are much cheaper. They yield high volumes at ower prices. The type of item you should target depends on the clientele you're working with.
There are many methods that can help you in refining your shipping. Some application assist you in finding suppliers with drop shipping. They can also advising you in researching appropriate suppliers. There's a huge amount of dialogue needed to find the right supplier. And maintaining that relationship. this ensures your orders reach the clients.
Dropship is a means of supply that uses third party drop shippers to ship goods to clients. This is effective for new businesses that lack the expertise and money to run the logistical part of the business. Because no stock is present , dropship works well as a side business. It can be alongside your wholesale business for new, risky products. This characteristic lends it well to research as well, for testing the waters with new types of goods.
Without the need to maintain inventory for your company, you won't need to worry about barcoding, stock audits and managing floor space in warehouses.
It'll all be with dropship. The basics involve shipping to the clients using a third part drop shipper. Boutique Tree helps with this. They provide goods at wholesale prices and shipping goods to your client at low costs. This needs to more profits at a reduced timescale.
New, trendy goods such as lip mask may sound obscure but are growing with internet shops at the forefront. You should keep up with trends target drop shippers with products such as these. This keeps your marketplace fresh. this also lets you gain new clients.
It's very important to note that dropship outsources a lot of the more complicated parts of the business. These include things such as storage, packaging and shipping. But, it's still a business. It's easy to believe the hype and think that dropship lets you manage a business with little effort and time. Every business, including those based on dropship, take a lot of time to get up a healthy profit level. This involves extensive marketing and research. These should occupy your time in the absence of the physical logistics of shipment.
Dropship allows you to run a business from home. You don't need extensive equipment and assets. Take advantage of this, a business will earn more profit of their overhead costs are lower. You don't need a fancy office, many full time employees and expensive equipment – at least not at first. Resist the temptation to do this and save money to reinvest and save.
Dropship is a very effective means of supply. It lets you ship goods to clients without needing a warehouse or a contract with a shipping agency. You create a partnership with a drop shipper and let them ship products to clients.. Inventory is not needed, and this time is better used on research and marketing. This is one of the biggest advantages of dropship that draws new entrepreneurs to them. The other is the low budget.
The post What is Dropshipping on Shopify appeared first on GQ Central.