If you are looking for a realistic golf simulator, then SkyTrak is the best brand for you. It provides various packages at different prices. Here we go in-depth about the SkyTrak SIG10 golf simulator with a complete review.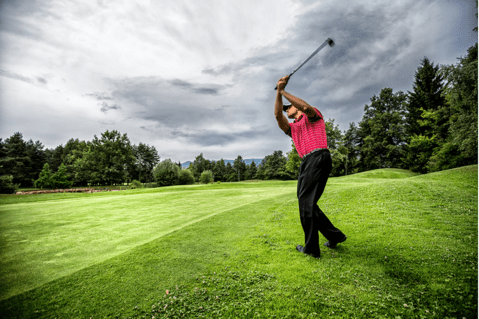 What's Up With SkyTrak?
It's a revolutionary brand providing complete indoor golf systems for your entertainment. SkyTrak entertains golfers by building complete indoor simulator tools that accurately reflect the skill of the golfer.
It also reflects the golf swing shot results and provides year-round practice. By using their state-of-the-art stimulator systems, a player can improve his golf swing without leaving home.
At SkyTrak they believe that a great golfer exists within everyone interested in the sport. They make great products to help your game get better and make you the top-notch golfer you were meant to be. They've been creating amazing at-home systems since 2014 and have no plans on stopping.
What's Included in The SkyTrak SIG10 Package?
The package comes with everything you need to start practicing your swing right away. You'll get a super high-quality screen and complete enclosure to keep the surrounding room safe.
The folks at SkyTrak have really thought of everything and included all you'll need for a realistic practice session at home. On top of the product itself you'll also receive anytime customer support through live chat, phone, or email to make sure you have the best experience with your new system.
The entire package is proudly made in the USA. You'll also be able to customize your package by choosing your own hitting mat. You have sizing options of 4'X9', 5'x5', or 4'x7' so you can fit it to your room's specifications.
Here's what else is included:
Side Barrier Netting
Floor Mount Enclosure to Keep Your Projector Secure
Landing Pad Turf and an
Optoma EH412ST Projector

This top of the line projector is second-to-none. It features a 4,000 lumen full HD short throw.
It offers two HDMI inputs so you can also use it with another device.
Its native 1920 x 1080 resolution displays data and images clearly at various viewing distances, while its 50,000:1 dynamic contrast ratio helps enhance detail in dark images.
Its 0.5:1 throw ratio allows you to place the projector near the front of the room, making it well suited for large-screen presentations in small rooms.
The SkyTrak system features a wireless connection to either an iPad Air or PC. It's fully responsive and records your launch data and ball flight once you hit the golf ball. It will then display your personalized results and see your improvement in real time.
With a real-time responsive display, this system is everything you need to boost your game to the next level.
The system also boasts a full metal protective case which is fitted perfectly through laser cutting of 13-gauge steel. All the buttons are still easy to access but the machine will be well protected from errant balls, wide swings, and other dings.
To add the cherry on top of a phenomenal package you'll also be able to get this to your home with free shipping and total customer support via live chat, phone, or email.
What the Reviews Say
Before investing in a system like this it's a good idea to get reviews from a variety of sources. We went through over 500 reviews to get a truthful idea of how the market is reacting to this product.
The lowest review is 3-stars and there's only 1 of those. All the other reviews are 4- or 5-star reviews. There is no doubt this is a quality product.
Here we will list what the reviewers love about it and what is missing the mark.
What They Love
The reviewers are very impressed with the system as whole. Here are some specific aspects these owners appreciate:
Customer service is second-to-none

Any issues were solved promptly and without question and made each customer feel valued and appreciated.

The equipment is superb, high-quality, and gives great results
Projection is high-def and very clear
Seamless shipping
Launch monitor performs just as advertised and produces real-time results as promised
So much fun one customer played for four days straight until their back gave out.
What Missed the Mark
Of the over 500 reviews we read the lowest rating was 3 stars which is impressive for a high dollar purchase. Here are some things that miss the mark but didn't drop the quality rating:
Many reviewers mentioned that the instructions, while decent, could be much more clear and helpful.

All the customers that had issues with the instructions got stellar support in the setup by the customer service team who were happy to walk them through the whole process from opening the boxes to the first swing.

You need a strong WIFI signal for seamless performance
Some shots have not been picked up
The system is a little generous with shot length
You have to download the app to run all the programs
Some experienced shipping delays
Some wish they had purchased additional sizes of mats for different experiences
The short throw projector can sometimes be a bit fuzzy and not crystal clear
The Final Word: Is the SkyTrak SIG10 Worth the Investment?
If you enjoy golf and want to be able to practice whenever you would like this is the best system on the market. While it will set you back a bit, the system comes with a $7,800 price tag, most reviewers are elated with the purchase and say it's worth every penny.
If you've been looking for creative ways to get some activity and relief from the boredom of being stuck at home this is certainly a great gift to yourself or the avid golfer in your life. What better than their very own driving range?
You can find the SkyTrak SIG10 Golf Simulator on the Shop Indoor Golf website here.
Looking for more amazing golf simulators? Check out our breakdown on the best golf simulators for home here.
The post SkyTrak SIG10 Golf Simulator: Complete Review appeared first on GQ Central.