RV Safety – Which Class of Motorhome is Safest On The Road?
Class B vans are thought in the industry to be the best RV safety choice for motorhomes. All of the vans have stability control and front airbags. For example, the Mercedes models are available with FCW, AEB, blind-spot warning (BSW), and lane-keeping assist (LKA). Class B vans can be equipped with full seat belts for multiple passengers for up to seven people, and they have front and side airbags. Given the small size, they can sometimes safely seat more passengers than can they can sleep.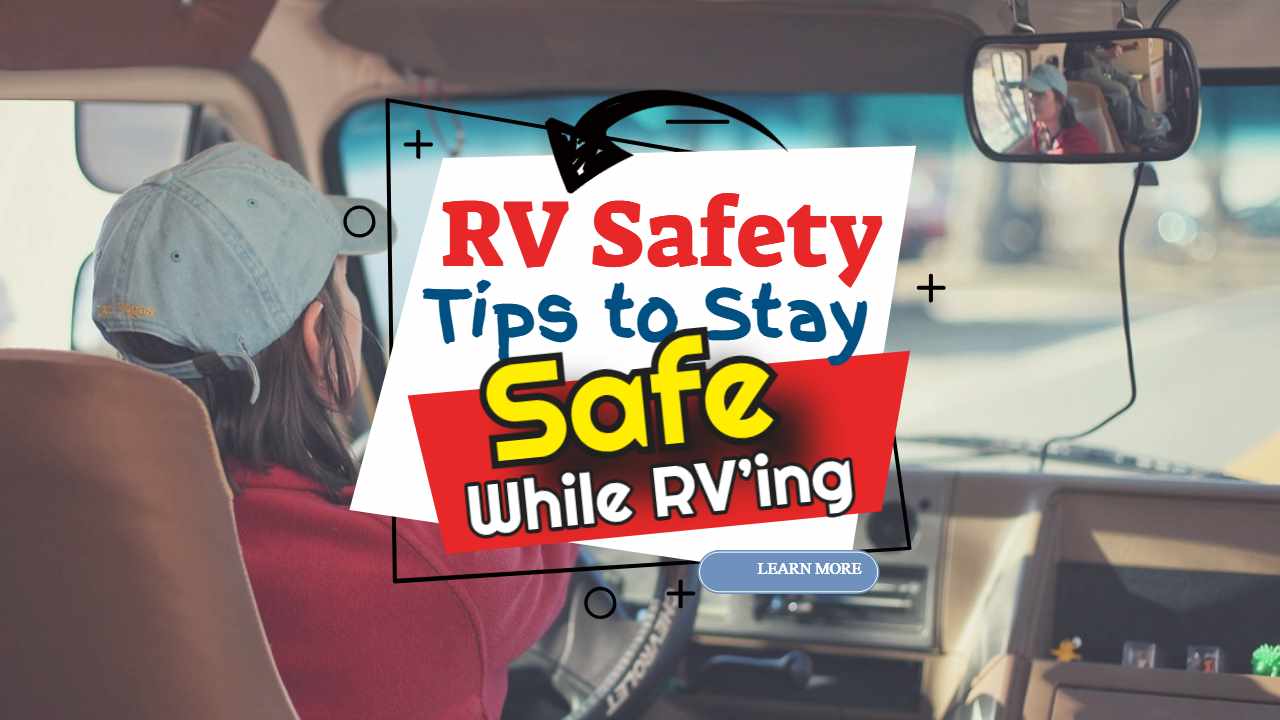 RV Safety 101 – the Basics
RV safety means you take precautions instead of chances. Keep your recreational vehicle well stocked and maintained. You don't need to be a mechanic, but you need to know what things to check.
Recreational vehicle safety tips follow to help protect you and your RV recreational vehicle. However, in a nutshell, RV safe-ownership means:
knowing your rv,
maintaining it, and
using it responsibly.
A few safety measures can go a long way, so the safe RV owner never neglects things which, if neglected, raise the risk of accidents occurring.
2 Essential RV Safety Tips to Stay Safe While RV'ing
Camping and RVing is fun but there are always dangers involved. Here are 2 which experienced RV'ers often comment on:
Weather changes can happen in an instant even when you looked ahead before your trip. Personal safety involves avoiding dangerous conditions and weather so you need to always have a plan in place for when the weather changes suddenly.
Be prepared for the unexpected. When you are prepared and stay alert and aware, you can have fun and keep your family and your belongings safe.
RV Safety Is More Important Than Ever
In order to stay safe on the road make sure to take precautions before you even begin your trip. Take a moment to view our RV safety video and then read on for more important safety tips.
RV Safety Issues 2021
Is it time to hit the open road? Recreational vehicles or RVs are a fun and convenient way to travel. You will save money by avoiding paying for expensive hotel lodging and dining out while travelling, and they are very safe. However, the following is a list of RV safety concerns and ways to avoid them, based upon the most-searched-for safety-related topics of the internet during 2020:
RV bunk bed fall prevention net or rail
Traveling across the country in an RV can be one of the most exciting memory-making events in one's lifetime. Having a child injured during a vacation by rolling out of bed at night can make memories you weren't wanting to make.
Children who have a head injury from a fall from the bed may lose consciousness. Passing out, even briefly, should be investigated by medical personnel
Bunk Bed Safety nets are designed to keep the child's arms and legs inside the bed, so they can't slip out in their sleep. The nets are solid so teddy bears and blankets stay safe in bed too. In many ways, they are better than wooden and metal guardrails, which can easily restrict movement in such small areas. They easily mount to the top and bottom of the bunk and safely tuck away under the mattress when not in use. Quick-release industry-standard seat belt buckles are utilized in securing the net to the bunk which allows for easy setup and storage.
There is no need to be worried about your child's safety. With a good RV bed safety net, parents can sleep soundly, knowing that they are safe in their bunk.
RV pet safety
It is fun going for a trip with your fur baby to the countryside, mountains & more. But it's vital that you should know the risks that your dog will face during the summer heat. WINTER – Pets can get frostbite very quickly when exposed to low temperature even if it is for a short time. Your pets deserve to be comfortable and protected, so make sure they are secure while you're out.
If you leave your Dog/Pet in the RV and if the DG fails, the temperature inside can reach over 100°F even when the temperature outside is just 75°F.
This rapid rise in temperature in the RV can turn put your furry babies at extreme risk of heatstrokes and related diseases.
The solution is a Pet Monitor, to monitor your pet's environment temperature and humidity in real-time. These devices:
Send text/email alerts when there is a temperature excursion.
No Wi-Fi needed for the more expensive versions which work over a 4G cellular network.
Long-lasting and rechargeable battery.
Android and iOS app for remote monitoring.
The two main types of RV temperature monitors – Wi-Fi and cellular pet monitors. Wi-Fi monitors depend on an internet connection, so in order for them to work you'll need to make sure that either the campground where you're staying has a good Wi-Fi connection, or you'll need to set up your own or use a hotspot.
Cellular monitors have their own connection to a built-in cell network, so it will have a data plan and can be more reliable than a Wi-Fi monitor. On the downside, you'll need to pay a monthly bill for that plan rather than just a one-time fee to purchase the monitor.
RV safety rating considerations
Crashes and especially rollovers are a particular concern with motorhomes due to their size and sometimes limited occupant protection. The most common causes for rollovers include underinflated tires, tire blowouts, inexperienced drivers, and overcorrection or oversteering.
Even though motorhomes have seats for several passengers, you don't have the same level of protection that you'd get in a pickup truck being used as a tow vehicle for a travel trailer. This is especially a concern when travelling with children. They need to be secured in car seats.
Do not take for granted that a motor home built on a chassis by a reputable chassis manufacturer is a safe and efficient vehicle. Chassis manufacturers have very little control over RV manufacturers, many of whom are building poorly designed overweight houses on reputable chassis.
Slow down, and watch your weight. We all know that driving fast can get us into trouble. What we may not be aware of is that if our rig is overloaded and we are unable to stop in an emergency situation, we could be held responsible for causing an accident. Bottom line a heavy rig will not stop as fast as a lighter rig!
Another area of concern when thinking about RV safety is the issue of RV Recalls. Like a lot of things in today's world, knowledge is power. If you are considering the purchase of a new or slightly used rig, it may be a good idea to have current information on any recalls that may be in effect.
RV child safety
From a child passenger safety perspective, the question falls to, are these kids using car seats? And if they are not, should they be?
The back of an RV is a travelling room and not designed with belts and restraints designed to take impact stresses.
Many people ask when traveling with children in RVs, do they have to be restrained? The answer is of course, yes. All states have car seat laws to keep children properly restrained and safe while driving. RVs are no exception to this law. Laws vary from state to state. You need to follow the state car seat law for each state you are driving in with your RV.
RV safety inspection
A pre-purchase RV safety inspection is one of the most expensive RV inspections to get, and yet a professional inspection is very important, especially before buying a used RV. Get a professional pre-purchase RV inspection done first, before signing on the dotted line. You'll want them to go over the entire RV to be sure you know what you're getting, and that nothing is broken or missing. You can choose to inspect just the mechanics of your RV, or you can have a full interior and exterior inspection.
If possible, have your inspector take your motorhome for a road test, and request that they take plenty of pictures during the inspection. Motorhome inspections can cost anywhere from $150 to $1,200. You'll pay more if you have a very large rig, or if you have complicated systems to check and a lot of things to cover. A smaller RV will cost less. It depend on what is required by the RV safety inspection checklist
There is a wide variation in the number points of inspection depending on what kind of unit it is and the level of inspection you choose. The inspection is a visual inspection of all the major house components of the RV. We are not referring to your state or province's DMV inspection for roadworthiness which also has to be done, of course. Different types of RVs will be subject to different types of inspections.  For example, a motorhome may only be subject to a state safety and emissions inspection.
RV alert carbon monoxide detector
Protecting your recreational vehicle from fire and your loved ones from carbon monoxide danger, the best RV carbon monoxide detector is a special device that you need for your camper, mobile home or recreational vehicle.
Carbon monoxide is an invisible, odorless gas that you don't expect to encounter when traveling the great outdoors. However, some of your RV appliances emit carbon monoxide, which can be dangerous to your health.  It will help in keeping you, your loved ones safe from CO hazards caused by leaks and high levels of carbon monoxide in the air.
Buy a dual alarm that detects both Propane Gas and CO, as well as Natural Gas. These units can often be flush mounted and directly wired into your RV's 12V system. The best have "No-false-alarm" sensor technology. Most manufacturers recommend that CO and LP detectors be replaced every 5 years.
RV awning safety straps
An RV awning safety strap is for the peace of mind of RV drivers who need to know that they have dependable straps which help to secure a large (for example 20 foot) awning on their travel trailer. RVers use them to help prevent the awning arms from coming open as you travel down the road. They can also eliminate any noisy rattling as well. There are also awning stabilizer systems, which secure your awning to prevent damage to it and your RV/camping unit caused by rain and heavy winds.
RV good driving course near me
Many RV owners start out by searching for an "RV safety course near me". Professional instructors are available in most areas who have developed training courses for RV novices to become safe drivers. Many of these RV driver training schools are based near RV parks where they are able to teach the needed skills of safe RV driving in differing traffic conditions. Through these attending such courses, everyone can learn to drive an RV. The experienced instructors have taught thousands of people to drive their RV safely and they can teach you too. Their mission is simple: Your safety and confidence while driving your RV.
Some drivers say that having a Certificate of Completion can reduce RV insurance cost if you show it to your insurance company. Its call a Defensive Driver Discount.
RV safety step
Boarding and exiting large vehicles like RVs can easily present safety hazards for some passengers. Wobbly RV entry steps are a major hazard for RV users. If you are stretching to reach your steps or the ground below, or your camper steps are hard to operate after years of exposure to the elements, either maintain them yourself or buy a new set of steps.
The best Safety Steps are those that are specially designed for transportation vehicles. many have legs adjust individually so you can level unlevel ground. The best step units adjust to at least four separate heights ranging from 7″ to 8-1/2″ in 1/2″ increments. We like those made from durable, all-aluminum in a welded form of construction. Some even have a glow in the dark safety strip set for extra visibility.
RV tire safety and tire safe bands
When a tire deflates, air pressure can no longer hold it in its correct place on the wheel. It becomes free to move about and the tire's beads can slip over and into the 'well' of the wheel allowing the tire to flail, or dangerously flap about. Steering control is lost and the flapping tire can cause serious damage to the vehicleby damaging brake pipes, suspension and bodywork. Tire safety bands can help prevent this.
Fitting a tire safety band may help with maintaining steering control, braking, and cornering control, at any speed after a puncture or an instantaneous blow-out.
Safety struts for RV bumper
Safety struts are used to prevent RV bumper failure. They are heavy-duty pieces of metal that are specifically designed to mount to the frame of the travel trailer and have a horseshoe shape that wraps around the bumper. This apparently helps hold the bumper of the travel trailer firmly to the frame of the RV and prevents bouncing.
RV fires
RV fire safety is often overlooked. RV fires can start when your RV is moving or when it is parked.
Make sure your electrical system is inspected regularly for solid connections and wires that are in good shape. If and when any electrical work needs to be done, make sure it's done by a skilled electrician or handyman (or woman).
Check propane lines and tanks regularly for leaks, and shut off the valve at the tank if you don't need it. Not only can propane ignite, but if a fire breaks out from another source, having the propane on, can quite literally, add fuel to the fire.
Conclusion
We have covered a large number of RV safety aspects from general hints to safety for kids and pets. Perhaps the most concerning aspect of our research is that fire safety feel to the very lowest priority for online searches. This is unfortunate. Fire safety is of premium importance to every RV'er. Unfortunately, fire is one of the leading causes of rv loss in the U. S. Today.
Fire can rip through an RV in just a few minutes, and if people or pets are unable to get out extremely rapidly the consequences can be dire.  The national fire protection association (NFPA) estimates that 20,000 RV fires occur annually. If there is one thing we would like to highlight in our conclusion right here and now it is beware of RV fires and do take fire risk very seriously indeed.
But, don't worry excessively about RV safety, the worst that most people witness in a lifetime of RVing is no more than perhaps the odd domestic tiff, or possibly to see a fellow camper who had a bit too much to drink, and is given help to get from the camp bar back to his or her RV for the night!
The post RV Safety Tips to Stay Safe While RV'ing appeared first on Precious RV.
The post RV Safety Tips to Stay Safe While RV'ing appeared first on GQ Central.