Marketing Technology Will Always Have Its Place
Brands that we know, the technology that we use, causes that we relate to, and things we binge-watch on the web, not only this but also the places to which we travel and the social causes we are receptive to.
"The Printing Press… Benjamin Franklin's first tool in his marketing stack. – Tony "Ty" Yeager"
Don't think your own technology stack is a replacement for your marketing ecosystem. It's a self-contained ecosystem that delivers a faster time to market and more agility to react and evolve in real-time.
While you might think that more technology in place means more efficiency for your business, each tool must serve a distinct purpose tied to your desired marketing outcomes.
A well-crafted marketing technology stack increases marketing efficiency, decreases lead to sales time, and ultimately increases overall revenue and customer satisfaction. My approach to marketing technology starts with defining the marketing tasks you're already doing, that are driving value and that can be automated, saving you time and money.  Whether it's implementing marketing automation solutions to improve lead nurturing or email automation to provide the right content at the right time.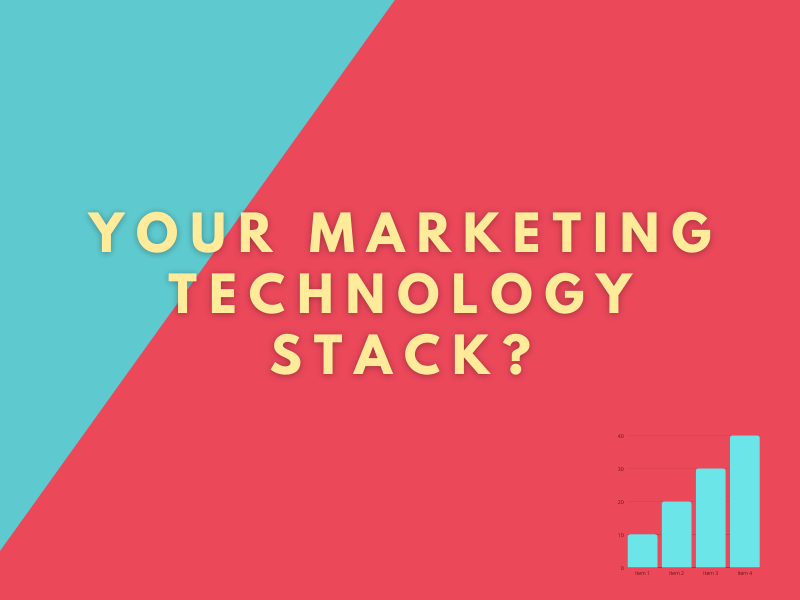 The base of all marketing campaigns, the core database plays a critical role in an organization's sales team and manage customer records.  Our job as a marketing technology consulting firm is to help you find the best marketing tools to create a formidable technology stack.
What Is Marketing Tech? A "Stack"?
Defining digital marketing by the tools you use is a mistake.  What you know is your anchor, not your tools, as a consultant.  But the tools make you nimble. The world of digital marketing continues to evolve and as long as technology continues to advance, digital marketing will as well.
These findings can help you. Social proof is one of the most beneficial marketing techniques to build credibility and trust, right?
If your data fails to perform, then you'll find yourself in a marketing rut. This is a common scenario for marketers who don't have the proper martech stack to achieve their goals.
For example, brands reported that they currently use martech tools for email (79%), social media (77%), content marketing and management (68%), CRMs (65%), and analytics (65%).
The core stack typically includes such software tools we will discuss below. The marketing technology stack can also include advertising and retargeting tools, social media management, media management, and monitoring.
Examples Of Marketing Tech
Because real-life examples are always better, we're going to show you our martech stack. With a team that's grown exponentially over the last three years, you can see which tools and software have helped us scale efficiently.
Use the tips and examples in this post, as well as the techniques in our niche marketing pdf, to help you develop a strategy for identifying an underserved and valuable customer segment you can focus on.
In this article, we compare different examples of the well-established tools which serve to highlight the adoption of new technology services within marketing technology. Let's explore key marketing tools based on examples and research on the adoption of the latest marketing techniques and technology marketers can use.
You'll also see a commonality among many of the tools: the word "management. ". Campaign management tools, customer relationship management software, social media management solutions, customer experience management platforms: all offer distinct benefits for brands and rightfully deserve a spot in their marketing tech stacks.
Ad Tech vs. Marketing Tech: Understanding the Difference
Martech may sometimes be confused with adtech. The difference between these programs is similar to the difference between marketing and advertising.
Now instead give the officer a radar gun. The difference in accuracy is astronomical. Marketing without martech is the equivalent of judging speeds without tools.
Influitive. Influitive helps the company build a robust community of customer advocates. Time-consuming manual tasks such as predicting pipeline, scheduling email follow-ups, and understanding which campaign is performing best are left to the tech, while on24's marketing team focuses its attention on the art of marketing.
The tools we discuss below cover various important areas of marketing from audience analytics, content creation, performance analytics, and influencer marketing purposes.
Scope of the Social Media Marketing Tools
So, we put together a list of 18 social media marketing tools that we know from experience will get you to the next level.
If you're looking for the best tools to add to your marketing arsenal, then check out the following social media tools and software.  Why should you?  They are so useful to…
Build and grow stronger relationships on social
While today in the new omnichannel landscape, marketers are focusing on customer retention and loyalty to build stronger relationships with customers to drive growth and tv.
The Must-Have Social Media Marketing Tools For 2020
Adding SocialPilot to your social media marketing tools is guaranteed to generate tons of quality leads, and fast.
Social media management tools should not only display important marketing metrics for you but also help you interpret and communicate the results.
Social Media Marketing Tools for Monitoring and Analytics
You can't improve what you don't measure.  Tracking your campaigns should be a priority.  Most digital marketing tools out there have built-in analytics, right? For instance, SproutSocial has social channel analytics that shows how your content performs on a variety of social platforms.  SocialPilot and Hootsuite track click to your posts.  There are even tools you can plugin to track the tools you use to track.  Analytics and data collection is one of those technologies that has gotten extremely good.
Digital Marketing Tools For Strategy Impact
Finding new digital marketing tools is always a great bonus. Finding a new digital marketing tool doesn't guarantee success and won't help you with strategy, however when executed well it can give you a great competitive advantage.
Serving as super-users and product evangelists for a variety of digital tools, we monitor a ton of industry content (through RSS feeds). Employing a marketing stack strategy to improve a business is a fine idea, but what is that without implementation?
Fellow consultants, we suggest when building a stack to serve your client's needs, think about the likelihood of full implementation.  Some tools are more time consuming than others in ways that have nothing to do with their ability to execute their purpose.  We will dive more into that risk in the article.
As one of the top free tools from Google, Google Analytics should be part of your digital marketing strategy from the very start.  Old schoolers, start with the install process.  Your journey starts there.
Social media is a core component of digital marketing. Let's have a look at the top social media marketing tools and how exactly they function.
Tools for Digital Advertising
Examples of digital tools and software include things like websites (never forget, they are a piece of software), social channel mentions, youtube videos, and banner ads. Specifically, digital marketing is similar to traditional advertising, but using digital devices.
When you talk about this subject, it's hard to avoid the top two ad platforms, Facebook and Google.
For you old-schoolers, just a word of advice.  Try YouTube first.
Tools In Our Stack for Automation and Data Extraction
A customer journey analytics platform can bring together data from websites, CRM systems, email marketing tools, marketing automation tools, data warehouses, social media tools, point-of-sale-systems, call center logs, and even IoT devices.
Marketing automation software is often confused with other tools because of its multiple capabilities: marketing automation can combine the power of email service providers, social channel automation, workflow automation, project management, customer relationship management (CRM), and even data visualization software, all in one centralized location.
Google Analytics + Hubspot is a great choice for an old schooler learning the new school.
The rest of the tools below are discussed in no particular order, don't infer any ranked utility.
Tools to Increase Shares of Your Content
Are you ready to level up your social game? if you want your social media marketing to be effective, you'll need to invest in the right tools for the job.
The schedule marketing calendar lets your team plan and schedule social posts. There are also tools for content curation and an asset organizer for media files.
Tools for Content Curation
To do this well you need to use one of the best social media management tools. Each tool will help you plan, schedule, and publish social media content at the right time so that it reinforces your wider public relations and marketing efforts.
The above two tools make it easier for you to post and share content on social media, but how do you find the best content to post? with content curation tools like Buzzsumo! because social media isn't just about creating original content; it's also about sharing existing content that you think your followers will find interesting.
Platforms: Facebook, RSS Feeds, Instagram, Twitter, LinkedIn, youtube. Falcon. Io. is an interesting cloud-based social media marketing and customer experience management solution that features tools for social media listening, engagement, publishing content, measuring, and customer data management.
Again, we like Social Pilot here. Some on the team prefer Hootsuite.  We ALL use RSS feeds to scan daily consulting industry news.  It makes for a great chat over lunch with team members.
HubSpot Email Marketing
Email is still a profitable channel for more brands.  Even local-only businesses.  It's a sturdy workhorse in any marketing stack.
Hubspot a neat tool, let's talk about it.  It can be an essential tool for all things inbound for many marketing stacks. We've used Hubspot as our CRM and cms, as well as for email marketing, blogging, social media and to build landing pages.
Hubspot, a company well known for its CRM and inbound marketing software, recently launched an email marketing product. Hubspot email marketing is easy to use, boasts impressive deliverability, and of course, comes natively integrated with all other HubSpot products, such as the free-forever CRM, as well as hundreds of other popular marketing tools.
"At HubSpot, our marketing hub is an all-in-one platform that marketers can use to execute their campaigns. While this is not the only function, the software comes with a variety of tools to choose from, including search engine optimization."
Hubspot's marketing hub is the platform's leading marketing automation offering. The tool has a breadth of capabilities related to lead generation, email marketing, and analytics. Get started with HubSpot.
Mailchimp – what began as solely an email marketing service grew to become MailChimp's popular all-in-one marketing automation platform geared towards small businesses.  A trusted peer swears by it, so I mention it here.
Must-Have Digital Marketing Tools to Help You Grow
Are you looking for ways to improve your online presence in 2020? Want to know the digital tools and software that can help you grow your business?
Here is a partial list of the tools I use every week to get results for my clients:
Zapier
Gmail
Youtube Ads
Google Ads
Google Sites
Aweber
Social Pilot
HubSpot (if you're just starting)
Facebook Messenger
Facebook Ads
Hootsuite
Youtube Channel
WordPress (for websites)
Clickfunnels
Twitter, Facebook for following industry news, and software and tool private forums with other users.
NOTE: Follow podcasts of industry leaders that share their Marketing Technology Stacks.  Technology changes, so the tools change.  For you old-schoolers… that just means you have to catch up to the concepts, and the current tools.  They will change in a year or two, and level the field.
Marketing Technology Utilization: Is Technology Helping to Meet Your Goals?
Contrary to what some may believe, companies don't need a never-ending budget to participate. With the right online marketing strategies, small and medium businesses are finding new ways to compete against the goliaths.  We know, we help them with their own marketing systems implementation.  For us, what they can't do, we step in to fill the gaps.  We can only do that with certain business personal who are committed.  Remember this…
The best tool is worthless if your team will not pick it up and use it.  That can mean things unrelated to how well the tool can perform, which can make it a loser in your marketing stack.  Tools with user interfaces that are confusing, glitchy, use tiny fonts and the like can not only be neglected but cost money with a bad typo.
Which Digital Marketing Tools Do You Swear By?
Of course, there are tons of other tools out there that might not have made our list. What digital marketing tools do you swear by? anything that you wish existed that still isn't out there yet?
The post Ready To Get Started On Your Marketing Technology Stack? appeared first on Tys Info Ray.
The post Ready To Get Started On Your Marketing Technology Stack? appeared first on GQ Central.