Pergolas have re surged in popularity due to how versatile they are as an outdoor space that is suitable for any backyard and garden setting.
A well placed pergola design can give you a stylish way to entertain and enjoy your outdoor space without sacrificing your comfort.
There can be some confusion about what is the difference between a pergola and a patio.
They are slightly different but many people refer to them as being the same.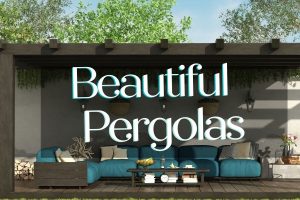 Typically pergolas are a free standing timber constructions and they do not have a solid roof. They will use slats, battens or even trellises to create an open air shelter.
In Australia many pergolas do have solid roofing installed so that we have protection from the sun but they are free standing structures.
Or if they are connected to a building they do not have a solid roof.
Patios in Australia are connected to a building  or an exterior wall (Just like a verandah or porch) and they do have a covered roof. They can also be enclosed and be an outside room of sorts.
In Europe patios are more like a courtyard and they are not a covered space. When looking for backyard patio ideas it is best to sick to Australian sites for your patio or pergola design ideas.
Pergola

 Location In Your Yard

All types of pergolas look great in most locations and they have many different uses.
They can bring shade and protection
They can connect different areas of a yard together as connecting walkways
They look beautiful when they are used as garden focal point
They can bring an element of 

landscaping ideas

 with modern 

design ideas

 and architecture style in a modem minimalist garden
Pergola

 Inspiration for the Pool

Poolside pergolas are a way that our love of backyard pools can be enhanced with an area that we can shelter from the sun when it is at it's hottest.
You can either build a pergola next to a pool where you can relax or sit and watch your children while they swim in the pool,
Or you can build a pergola roof over an area of the swimming pool. Your free standing covered outdoor space is perfect  way to get extra shade to use all day when the sun is shining.
Having a shaded area over a pool means that kids can swim all day and minimise the risk of being sun burnt if they stay in the shaded areas.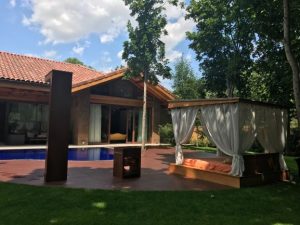 Outdoor Furniture

 To Laze on

Although your furniture will have some protection from the elements, You should still purchase outdoor furniture that suits the summer relaxation requirements as well as  the Queensland warm climate.
Your outdoor decor needs to be either lightweight for the deck pergola area and easy to set up and pack up.
This is so you can stack and store them when not in use or when a storm is on the way.
You do not want to see a chair flying over your neighbours fence if a strong gust of wind catches it.

The other option is to have an outdoor setting that is sturdy to be able to take a beating and handle weather conditions such as the summer storms and intense sun we experience in Brisbane.
Popular pergola furniture are chairs, recliners, tables or even something simple like a hammock , swing or even a big floor pillow two.
Plants For A 
Pergola
Pergolas are the perfect structure to allow plants or vines to climb up the supports and over the crossbeams.
Flowering vines like jasmine offers plenty of shade all year round and in spring bring the gift of a beautiful fragrance.
Or you may decide that a pergola is the perfect place to grow some shade loving plants. Create a lush garden of tropical plants with options like pots and  planters or something more permanent like a garden bed around your garden structure.
You can make a true garden feature with a well thought out pergola and carefully chosen potted plants to create a real focal feature.
Pergola

 Flooring And Decks

The modern pergola is your outdoor living space and a deck is usually the flooring of choice and it is often referred to as a deck roofing!
A timber deck is the perfect match for your timber pergola design.

If you decide on a steel pergola, you can still have a deck or you may want to look at other flooring types are paving slabs or tiles, bricks laid in sand, crushed gravel or pebbles.
If you want to keep a green expanse in the yard for Astro Turf is a consideration if you want it to look like lawn underneath the structure.
This makes sense if you are building a freestanding pergola for a shade structure in a playground.
Painted Timber or Stained Finish
You can leave a wooden pergola in a natural finish of some sort to suit the outdoors.
To keep the timber looking great you can stain it and it will look great for a number of years before it needs to be sanded and re stained.
Or you can paint it with outdoor paint and make sure you paint 3 layers of paint and this will last longer than a stained finish.
There is a wide range of colours in outdoor paints so you can opt for a natural, classic, stylish or even vibrant colour.
The classic white pergola in a cottage garden will never go out of style or if you want a more modern look, add structural elements with charcoal paint and this simple pergola will blend more into the surrounds and give an architectural design.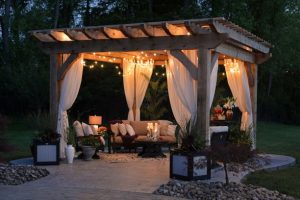 Mood Lighting And Cooling Ideas
If you plan on using your pergola during the dark evenings, then you will need some form of lighting.
It can be as simple as using solar powered fairy lights wrapped around the columns and along the top of the pergola.
They create a soft and romantic look and will not annoy the neighbours with bright lighting at night time.
String lights can be different styles and sizes from small twinkling,  to modem light globes and to cute shapes like stars and lanterns.
If you need better lighting options, you will require an electrician to install lighting and you may want to consider installing a ceiling fan to keep you cool in summer.
Ceiling fans have the added bonus of creating airflow which discourages flies and mosquitoes from invading your outdoor retreat.
If you opt for a outdoor plastic fan mounted onto a crossbeam or  the roofing slats. It will not get corrosion if you pick the right style and it be a great addition for the summer weather.
Beautiful Pergola

 

Plans

 And 

You may decide to take it to the next level and install an outdoor kitchen and outdoor dining area.
With an ultimate wooden deck  and even a built in bench or two for a an all year round area for entertaining.

There really in so end to the design ideas that you can have when building your new outdoor space.

The post Building A Pergola appeared first on GQ Central.