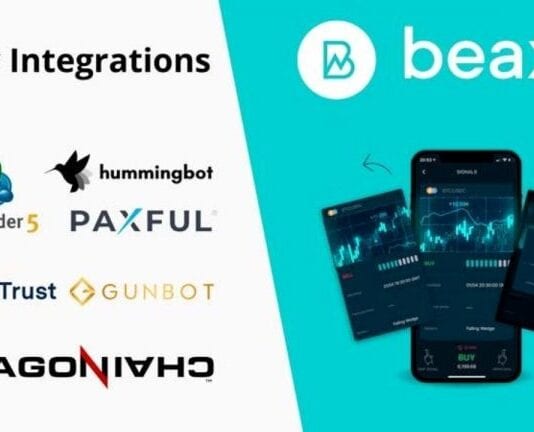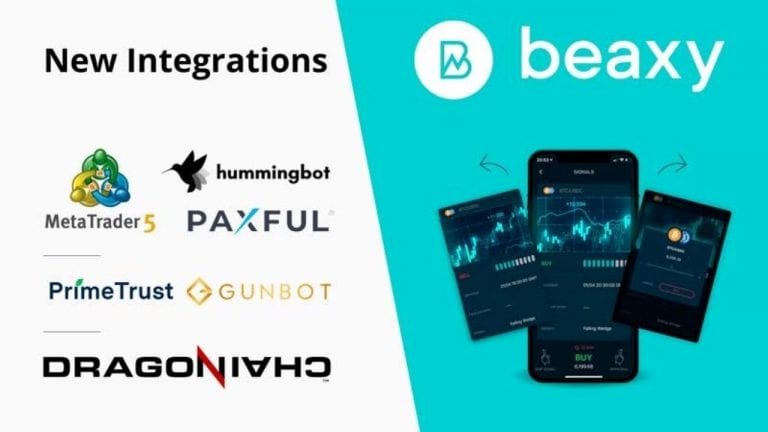 PRESS RELEASE. Chicago, Illinois, USA – Hummingbot.io, a premier open-source algorithmic trading project, has chosen to incorporate Beaxy Exchange into its most recent software release, allowing Beaxy users to take advantage of 24/7 automated high-frequency trading on a U.S. based cryptocurrency exchange. Previously, traders could use the open source codebase to run their own versions of Hummingbot. Now, a version exists which was custom tailored by the Hummingbot Development Team to ensure a streamlined integration with beaxy's trading interface.
Hummingbot differs from other trading bots in several respects. It is an open source program and is free to download and use. The core strategy of the bot enables a trader to function as a market maker on multiple exchanges – put simply, the bot will place both limit buy and limit sell orders for others in the market (termed "takers") to meet. While there are numerous strategy templates and operating styles, the bottom line is that Hummingbot has removed key barriers to entry for those in crypto who are keen to get their feet wet in algorithmic arbitrage and market making. Traders can exchange BTC to USD, USD to ETH, ETH to DRGN, DRGN to USD and dozens of top performing crypto currencies on Beaxy.
Beaxy's Head of Customer Service, Cooper Craighead, added that, "Hummingbot is a great option for both users just starting into bot/algorithmic trading and experienced veterans. It's easy for anyone to set up, regardless of technical background, but has a depth of configuration options that will allow seasoned traders to tweak strategies to their heart's content."
With this integration, Beaxy and Hummingbot forward a shared vision of providing the tools and insight that allow those who trade in crypto to trade profitably. Thanks to the developers, operation of the bot requires little more than some elementary knowledge of the scripts it uses to trade, so even novice traders can set their parameters and be up and running in less than 15 minutes.
Having grown 728% since January 2020, Beaxy Exchange has been working since its inception in 2017 to bridge the gap between cryptocurrency and legacy financial trading. Reflecting that goal, Beaxy's digital trading platform comes with many of the advantages of a legacy trading platform. For example, the overall speed between interactions on the platform is faster than many U.S.-based crypto exchanges. To enable insight, the platform offers automated technical analysis to save traders the legwork while simultaneously offering the entire suite of technical analysis tools for those who prefer to do it themselves. Add these perks to seven advanced order types and Beaxy looks a lot like the ideal set-up for market veterans.
Algorithmic trading programs like Hummingbot fill the last key gap for traders on Beaxy by executing trades around the clock and operating with microsecond instinct based on their set strategy.
If you would like more in-depth information on Hummingbot and other integrations, click here to visit our blog.
Media Contact:
James Carney
james(at)beaxy.com
About Beaxy
Beaxy Exchange is headquartered in Chicago, Illinois, USA and is operated by Windy Inc in the United States and around the world. Windy Inc is registered with the U.S. Department of the Treasury's Financial Crimes Enforcement Network (FinCEN) as a Money Services Business. Beaxy services 42 U.S. states, in addition to serving an active global customer base in many international markets. Fiat currency on-ramps are offered by wire transfer in USD, EUR, GBP, JPY, CAD and AUD, as well as credit/debit card on-ramps offered through Simplex in USD, EUR, GBP, ILS, TRY, CAD, CHF, KRW, JPY, RUB, AUD, CZK, NOK, DKK, NZD, SEK, ZAR, HUF, and PLN. Beaxy Exchange offers safe, compliant, and protected cryptocurrency trading and fiat ramp services for its customers. Digital assets are secured by Curv Institutional Custody, with USD deposits insured by the Federal Deposit Insurance Corporation [FDIC] up to $250,000.
About Hummingbot.io
Hummingbot is a community-driven open source crypto market making and arbitrage bot that aims to democratize algorithmic trading by making sophisticated high-frequency trading strategies freely available to everyone in the world. We believe this will lead to a more open, fair, and inclusive global financial system.
---
This is a press release. Readers should do their own due diligence before taking any actions related to the promoted company or any of its affiliates or services. Bitcoin.com is not responsible, directly or indirectly, for any damage or loss caused or alleged to be caused by or in connection with the use of or reliance on any content, goods or services mentioned in the press release.
The post Beaxy Accelerates Automated Trading Through Hummingbot Partnership appeared first on Crypto Scoop News.
The Article Beaxy Accelerates Automated Trading Through Hummingbot Partnership First Appeared ON
: https://gqcentral.co.uk